Let's keep the spirit of giving alive as we move into week three of 2015!  Last week on our blog, we shared our experience with volunteering at Austin Animal Center and what an awesome experience that was.  This week, we bring you another exciting opportunity that you, and everyone you know, can take part it!
Live Weird Realty has teamed up with Liberty Mutual Insurance, SecurityNational Mortgage Company and The Buzz Mill to bring you an exciting event and fundraiser to benefit another Austin staple in animal rescue – Austin Pets Alive!
FIND YOUR FOREVER HOME WITH LIVE WEIRD REALTY
– a benefit for AUSTIN PETS ALIVE!
January 29, 2015
6:00pm -10:00pm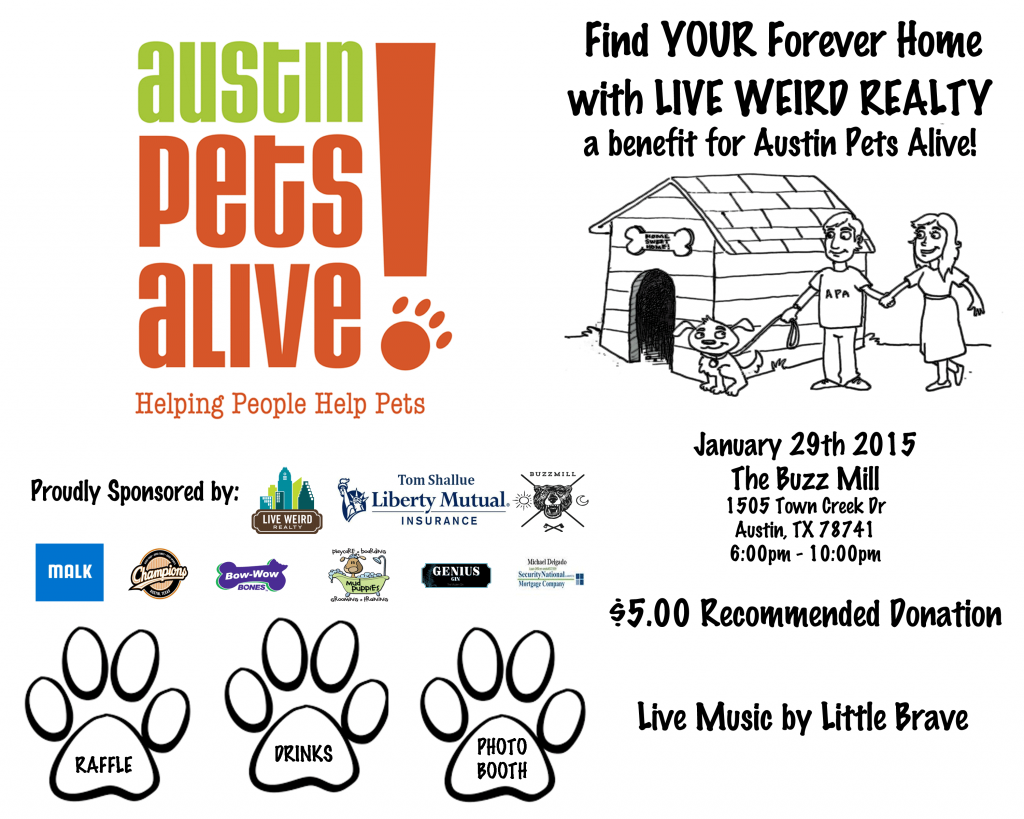 Join us for cocktails, live music by Little Brave, take photos with friends at our photo booth and enter the raffle to win some fun prizes from our amazing sponsors – Mud Puppies, Bow Wow Bones, Genius Gin, Champions Restaurant & Sports Bar, MALK & Austin Cocktails!  All we ask is that you give the recommended donation of $5.00 at the door!  Anything above and beyond that $5.00 donation (can be any amount) will enter you into the raffle!  All collections at the end of the night will go to Austin Pets Alive!
2015 marks four years of keeping the city of Austin no-kill.  Our goal is to help contribute to that incredible milestone and make sure that Austin remains no-kill for many more years to come!  We love our aMiNals, so come enjoy a good time with us while supporting an amazing cause!!
For a full list of details and to RSVP click HERE!  We can't wait to meet you all there!!